Education is the
key to your success!
News & Events

VACE Voted Best by Star Readers

VACE was voted 2018 Best West County Trade School for the third year in a row!

FREE Workforce Development Academy

The Workforce Development Academy (WDA) provides training to help job seekers improve existing skills and develop new ones. Call 805-289-1744 to reserve a seat. Click to get details on the

WDA classes!

Terry Wieser teaches Photoshop again!

Terry is teaching the evening Photoshop class again. Learn to use Photoshop on a Mac platform. Call 805-289-1744 to reserve a seat. Click to get details on the

Community Enrichment Photoshop class!

New Class! Intro to MS-Office 2016

Learn Microsoft Office 2016 in classroom lab and Hybrid Learning locations. This course is designed to create a learning pathway for deeper knowledge of the Microsoft Office Suite with the goal of achieving Microsoft Office Certifications. Call 805-289-1744 to reserve a seat. Click to get details on the

MS-Intro class!

New Career Technical Education Programs

ENCORE Program at VACE!

Ventura County Concert Band

VACE Awarded "Health Champion Award"

High School/GED Wiki

Ongoing

Ongoing

Ongoing
Mission Statement
Ventura Adult and Continuing Education prepares diverse learners with academic, vocational and technological competencies for the 21st century global workforce.
Program Philosophy and Purpose
VACE's Career Technical Education is founded on the belief that knowledge is a key element of life. The more that is known about a subject, the more it can be enjoyed, pursued, accepted or defended. Recognizing that adult learning patterns and needs must be addressed in a sensitive and responsible manner, the training programs have been designed to be comprehensive, supportive and flexible. The staff of VACE's Career Technical Education is dedicated to meeting each individual student's vocational needs and to the development of self-worth through assets building and educational opportunities.
The purpose of the Career Technical Education programs is to provide learners with every educational opportunity necessary to develop their potential regardless of age, heritage, handicapping condition, or background.
Career Technical Education Offers:
• Designated Vocational Program of Excellence
• Open-entry/open-exit, year-round programs
• Individualized instruction
• Competency-based curriculum
• Dual accreditation by WASC and COE
• Recognition by America 2000 as 1 of 11 outstanding U.S. adult training programs
• Qualified, credentialed instructors
• Low student/teacher ratio
• Complete program customization, based on student need
• State-of-the-art computers and equipment
• Latest industry-based software
• Weekly employability workshops
• Optional externships
• Access to free basic academic skills, literacy and ESL instruction
• GED preparation at no cost
• Monthly progress reports
• Daily attendance reporting
• Student Support and Career Center
• Financial aid assistance (see Financial Aid Policies and Procedures below)
• Approved for veterans (see Education Benefit Programs Offered by the Departments of Veterans Affairs and Defense below)
• Job placement assistance
• Professional certification
Programs
PDF catalogs for each of the following programs are available for download:
ACCOUNTING PROGRAMS
• Accounting Clerk
• Computerized Financial Accounting
BUSINESS PROGRAMS
• Administrative Assistant
• Business Administration
• Business Administration and Management
COMPUTER-AIDED DRAFTING AND DESIGN
• 3D Modeling and Design Drafter
• Computer-Aided Design Drafter
COMPUTER APPLICATIONS/GRAPHICS
• Graphics for Web and Print
• Microsoft Office Professional
COMPUTER SYSTEMS TECHNOLOGY
• Computer Support Technician
• Network Security Technician
• Network Systems Technician
DIGITAL MULTIMEDIA PROGRAMS
• Digital Multimedia Technician
• Studio Production Technician
• Visit TDCstudios website

MEDICAL FRONT AND BACK OFFICE
• Back Office Medical Assistant
• Front/Back Office Medical Assistant
• Front Office Medical Assistant
• Pharmacy Technician

Financial Aid Policies and Procedures
Click to download the Financial Aid Policies and Procedures Manual for specific information about Ventura Adult and Continuing Education's Career Technical Program.
OPEID Number: 03084700

Net Price Calculator
Click to calculate the maximum cost of attending VACE's Career Technical Education using the Net Price Calculator.
Completion and Placement
Graduation, Job Placement and Licensure Rates
For Students Enrolled July 1, 2017 – June 30, 2018
Reported December 2018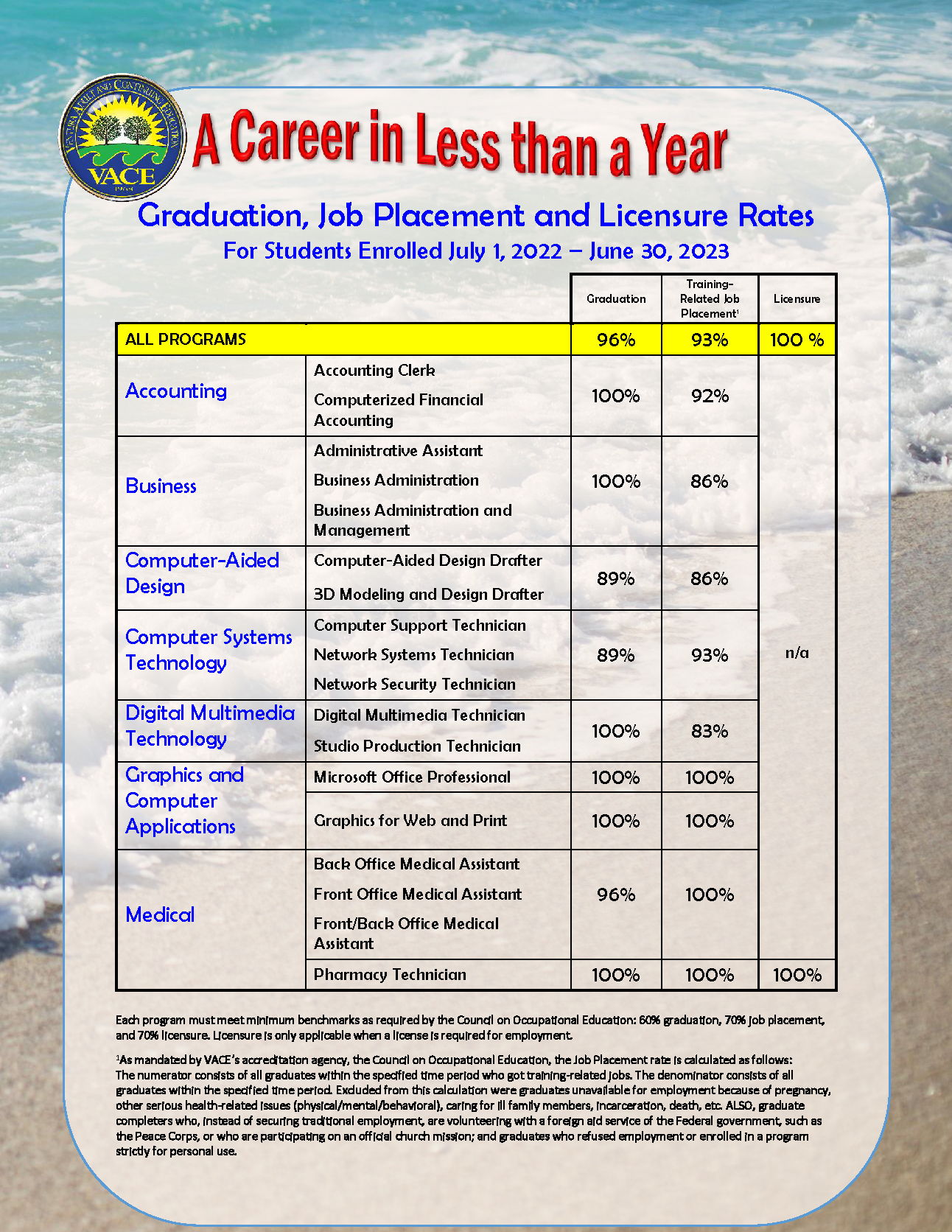 Each program must meet minimum benchmarks as required by the Council on Occupational Education: 60% graduation, 70% job placement, and 70% licensure. Licensure is only applicable when a license is required for employment.
For more information about graduation rates, the median debt of students who have completed programs, and other important information, please visit our website at http://www.adultedventura.edu/gainful.html (see link below).
1 As mandated by VACE's accreditation agency, the Council on Occupational Education, the Job Placement rate is calculated as follows: The numerator consists of all graduates within the specified time period who got training-related jobs. The denominator consists of all graduates within the specified time period. Excluded from this calculation were graduates unavailable for employment because of pregnancy and other serious health-related issues, caring for ill family members, or death; and graduates who refused employment or enrolled in a program strictly for personal use.
Gainful Employment Disclosures
Click to see the VACE Career Technical Education Gainful Employment Disclosure details by program and other relevant disclosures.
Default Rate Disclosure
Click to see the VACE Career Technical Education Default Rate information.
If you served on Active Duty, you might be eligible for education benefits offered by the Department of Veterans Affairs. For example, the Post-9/11 GI Bill provides financial support for educational and housing expenses to individuals with at least 90 days of aggregate service after September 10, 2001, or individuals discharged with a service-connected disability after 30 days. You must have received an honorable discharge to be eligible for the Post-9/11 GI Bill.
If you are currently serving in the military, you may be eligible for funding offered through the Department of Defense Tuition Assistance program. Check your eligibility status and the amount for which you qualify with your Service prior to enrolling.
If you are the spouse or child of a service member who is serving on active duty Title 10 orders in the paygrades of E1-E5, O1-O2, or W1-W2, you may be eligible for financial assistance from the Department of Defense for education, training, and/or the occupational license and credentials necessary for a portable career.
If you are the spouse or child of a service member, you may be eligible for transfer of the service member's Post-9/11 GI Bill benefits to you.
Please contact Myra Nunley at (805) 289-1744 extension 1102 for further information.
Voter Registration
VACE makes a good faith effort to provide voter registration forms for all students who are eligible to vote and haven't yet registered or for students who have moved, changed names, or wish to change party affiliation and need to update their information.
Monthly student assemblies offer an opportunity to remind students to register to vote. At our Constitution Day celebration, we include representatives from such organizations as the League of Women Voters to encourage students to register. Requirements for voting in California and other helpful information such as registration deadlines are presented on the California Secretary of State's website: http://www.sos.ca.gov/elections/voter-registration.
Voter registration forms are available in the VACE office. Students can pick up forms at any time before the registration deadline for each election. For those who prefer to register electronically, California also offers online registration at http://registertovote.ca.gov.